Flying Home Quilt in latest Quilt Mania Magazine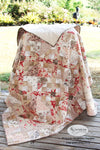 My Flying Home Quilt is in the latest Quilt Mania Magazine issue No: 118
How exciting it is to see my quilt in this beautiful magazine.
You can find the Quilt Mania magazine here or at your local quilt shop.
The Flying Home quilt is a very special quilt to me. I made this quilt from a selection of French General Fabrics and a few fabrics from my stash scattered in the mix. I had not long arrived home from a fabulous holiday with my two son's, my youngest son had was currently living in London and had been there for three years. We toured together and visited Paris for a week, as well as Ireland and parts of the UK. My youngest son was returning home to live later in the year and was touring for three months on the way with his girlfriend. My inspiration was to use the French General Fabrics in honor of our fabulous visit to Paris and use the birds in the air block as I thought of my son and his girlfriend flying home. I wanted to use mostly neutral fabrics, using as many neutral fabrics I could find in my stash. I fell in love with the sashing fabric, this fabric gave the quilt the lift it needed.
Read more posts about the Flying Home Quilt here and here and here
This issue is not yet on sale in NZ, so I am looking forward to receiving my copy. I will be sitting with a lovely cuppa tea with my copy of Quilt Mania.
Happy Stitching
Sharon
Leave a comment